Please find below a small selection of recently completed projects for private and business clients.
Spot the extension!
We were asked to extend this substantial detached house without making it appear to have been extended…
"Attention to detail is the key to success in these situations."
We were able to match the new bricks almost exactly to the originals, which were no longer available.
The windows and French doors were hand made to the exact design of the original ones and roof tiles were taken from the back of the existing roof and moved to the front. The timber detail was specially made by our joiner, and over a dozen stains were tested to create an exact match to the existing.
Industrial and office refurbishment
We were asked to make various alterations and improvements for the new owner occupier of this industrial / office unit in Round Spinney Industrial Estate.
The building was decorated internally and improvements made to the wiring, lighting and fire alarm system.
New offices were formed on the ground floor using specialist partitioning with blinds set between the glass. This solution means that cleaning the blinds is not required and repair or replacement is virtually eliminated.
The cladding to the exterior of the building was tired and needed to be repainted in the clients corporate colours. Specialist paint was used and lifting equipment enabled us to reach over and around obstacles, minimising the amount of time we were on site and therefore the amount of disruption to the clients business
Car Park Improvement
Improvements were made to this car park near Sixfields. Planted areas were removed and paved for ease of pedestrian access to the shops and improved maintenance for the client.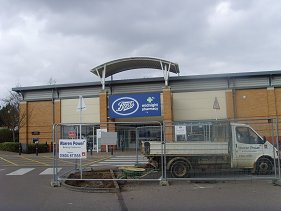 Temporary fencing was used to ensure that members of the public were not at risk of injury.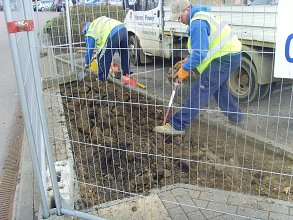 Operatives wear the correct safety clothing